Hiking The Trails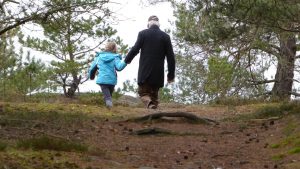 A quick hike to the falls:
From the Upper Parking Lot, follow the Upper Falls trail. The Falls are about a half-mile in.
Longer hike in:
From the Upper Parking Lot, follow The Cliff Trail Loop.
Keep left when the trail forks and follow the signs. You'll reach a rock outcropping with gratifying views, before continuing downward toward the stream and, eventually, the falls. The loop brings you back to the parking lot.
It is about a three-mile hike.
Longest trail:
Start at the Lower Parking Lot. Take the Lower Maxwell Falls route.
The four-mile round-trip trail takes you through lodge-pole and ponderosa forests on a shady path that parallels the riverbed.
This is a moderately difficult 1,100 ft. climb over 4.61 miles.
Please note, the falls are seasonal and are dependant on snowmelt and rainfall in the area. There is frequently little to no water coming over the falls but it is still a beautiful hike.
Maxwell Falls is operated by the United States Forest Service